Bayonet B2K
Special features
NSN-No.: 1095-12-637-4824
strong wire cutter (also for hardened concertina)
electrical insulated up to 1.000 Volts*
fits most NATO-assault rifles
ultra lightweight
ergonomic design
NBC-decontaminable
completely stainless
strong scabbard spring
all parts non-reflective
special military anti-corrosion coating on all metal parts
Textile Wearing System (MOLLE- & IDZ-compatible)

*Provided the user follows the instrucions as to dry- and non-oily conditions, etc.
HK G 36 - E
Colt M4 / M16 / AR15
Diemaco C7 / C8
FN - FAL / SCAR (long barrel)
STEYR AUG
Swiss Arms 550
Vektor R4 / CR21
ST Kinetics SAR-21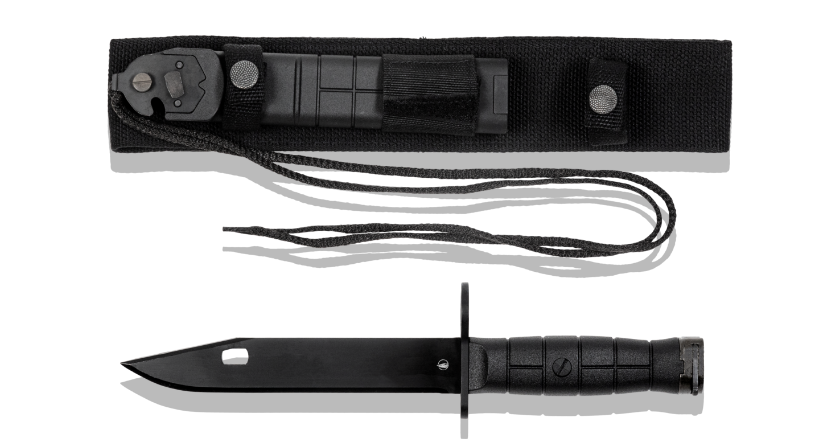 Technical data
Striking agility
Blade material:

440A (DIN 1.4110)

Scabbard material:

PA6 GK30

Total weight:

approx. 590 g / 20.8 oz.

Length of knife:

approx. 310 mm / 12.2 in.

Length of blade:

approx. 185 mm / 7.3 in.

Width of blade:

approx. 30 mm / 1.2 in.

Length of knife and scabbard:

approx. 340 mm / 13.4 in.

Length of textile wearing device:

approx. 345 mm / 13.6 in.

Width of textile wearing device:

approx. 60 mm / 2.4 in.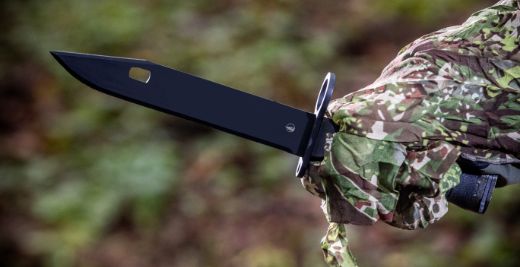 Standard and optional functions
Strong 3,6 mm Bowie blade

Ultra strong wire cutter

Sapphire sharpening plate

Water drainage hole

Schraubendreher

Wire cutter stopping bolt
Colors:
Black color is standard, other colors available upon special request.
highest performance
through best craftsmanship
We promise
We will help you
Contact us
Waffentechnik
Borkott & Eickhorn GmbH
Wuppertaler Str. 90 – 94
42653 Solingen
Germany
+49 212 258100
info@waffentechnik-solingen.com